Accessibility
InterLab 2013
Virginia DeBolt
Web Teacher (webteacher.ws) @vdebolt
URL for this presentation: vdebolt.com/interlab/
Why Make the Web Accessible
Provide equal access and equal opportunity to people with diverse abilities
Support social inclusion for people with disabilities as well as others, such as older people, people in rural areas, and people in developing countries
Accessibility overlaps with other best practices such as mobile web design, device independence, multi-modal interaction, usability, design for older users, and SEO.
Diversity of Abilities
Auditory
Cognitive and neurological
Physical
Speech
Visual
Resource: http://www.w3.org/WAI/intro/people-use-web/diversity
Components of Web Accessibility
WAI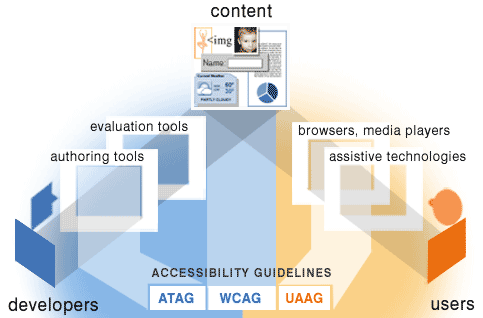 http://www.w3.org/WAI/flyer/handout2007a
WCAG 2
WCAG uses POUR
Perceivable
Operable
Understandable
Robust
Here's a checklist for WCAG 2 from WebAIM.
http://www.w3.org/WAI/WCAG20/glance/
Perceivable
Provide text alternatives for non-text content so that it can be changed into other forms people need, such as large print, braille, speech, symbols or simpler language.
Provide captions and other alternatives for multimedia.

Create content that can be presented in different ways, including by assistive technologies, without losing meaning.

Make it easier for users to see and hear content. This includes separating the foreground from the background, color choice, and zoom.
http://www.w3.org/WAI/WCAG20/glance/
Robust
Maximize compatibility with current and future user tools, including assistive technology.
WAI-ARIA
ARIA roles that act as navigation landmarks
ARIA has been around since HTML4 and works with HTML4, XHTML and HTML5.
http://www.webteacher.ws/2010/10/14/aria-roles-101/
Adding Navigation Roles
<header role="banner">
<nav role="navigation">
<aside role="complementary">
Roles used in ways like these examples are navigation aids for machine readers and for assistive devices such as screen readers.
ARIA landmark roles in action
http://youtu.be/IhWMou12_Vk
An example
Here's an example layout using ARIA roles.
banner, main, and contentinfo can only be used once per page
Other landmark roles can be used multiple times per page.
The example pages uses divs for everything. There are semantic HTML 5 elements that make more sense that could be used instead.
Ensure all content resides in a landmark region so no content is orphaned. This way a screen reader user can safely use landmark navigation without missing content.
http://www.html5accessibility.com/tests/roles-land.html
Screen Reader Support for HTML5 Sections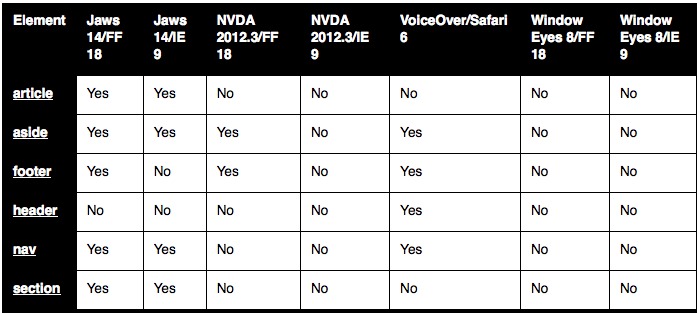 Since this table was made, a <main element> has been added to HTML5. The ARIA role="main" should be used with it.
http://tink.co.uk/2013/02/screen-reader-support-for-html5-sections/
Using an Existing Design
The Before and After Demo from the W3C
The whole site doesn't need a redesign.
Accessibility features can be added behind the curtain
10 Fast Tips
Add Alternative Text to Your Logo
Add Basic Landmarks
Enhance Focus Indicators using a:focus rules to highlight location
Identify Required Form Fields using ARIA: <input type="text" name="username" aria-required="true">
Make Your Page Title an <h1>
HTML5 has a required attribute
A required attribute is available in HTML5 for form fields. It looks like this:
<label for="first_name">First Name</label> 
<input name="FirstName" type="text" id="first_name"
required>
For now, using aria-required="true" with this HTML5 attribute is a good idea.
Be sure you identify form fields with a <label> element.
10 Fast Tips, cont
Identify Table Headers
Avoid "click here"
Identify Table Captions
Remove tabindex
Check Your Page in WAVE
Testing with the WAVE tool

http://wave.webaim.org/
Questions and Discussion
Do you have a specific need I haven't mentioned?
Any questions?